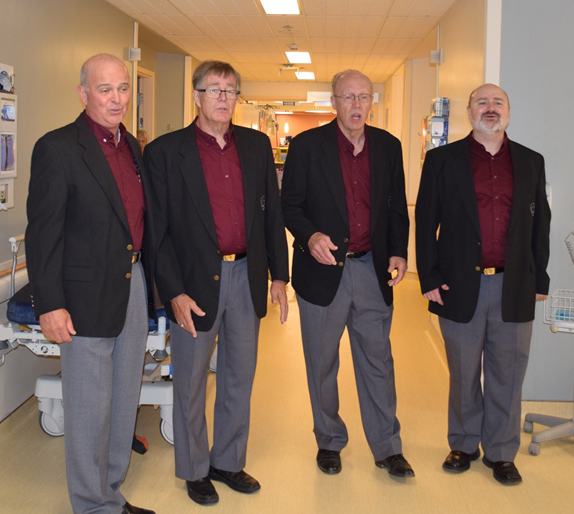 ---
Live Quartet Delivery
$50.00
Melt the heart of your loved one with the old world charm of a live Quartet delivering a love song in four-part harmony along with a rose and a card with a personal message from you. This is a unique and exciting gift for ladies or men of all ages!
We will deliver just about anywhere in Barrie - houses, offices, restaurants, businesses, schools even the great outdoors! Wherever your loved one will be on February 13th or 14th, we will deliver!
Live Singing Valentines include:
A Barbershop Quartet, formally dressed
Two love songs sung in 4-part harmony
A silk rose in a vase
A greeting card with a personalized message from you
* A Singing Valentines team member will call you to set up the delivery details!
Available timeslots:
Wed 13 Feb 2019, 9:00am to 8:00pm
Thu 18 Feb 2021, 9:00am to 8:00pm


---
eValentines Video
$20.00
Can't get a live quartet to your loved one for logistical or geographical reasons? Consider sending a personalized e-Singing Valentine by email! Deliveries can be sent anywhere in Canada and around the world!
For $20, your loved one will receive a beautifully presented email including a video of one of our quartets singing a love song with a personalized poem or personalized message from you. This will be delivered to their inbox ready for when they wake up on Valentine's Day - get the day started just right!
*A chorus member will contact you to go over the details to customize the video within 24 hours of you placing an order.
Available timeslots:
Wed 13 Feb 2019, 6:00am to 11:00pm
Mon 14 Jan 2019, 6:00am to 11:00pm


---